eBay Innovation Center In Israel
eBay's Amit Menipaz Talks About The Launch Of An eBay "Innovation Center" In Israel
International retail giant eBay is setting up a startup incubator in Israel. The incubator will focus on startups dealing with e-commerce, social networks and big data, and will be located at eBay's Israeli headquarters in Netanya, which was constructed over the ruins of Kika's giant furniture store.
"We want to work with the Israeli startup community in a more organized and orderly fashion," explains Amit Menipaz, eBay's Senior Director, Global Product Management, Selling & Catalogs and former head of the Israeli branch. He prefers calling the incubator an "innovation center," the same name given to similar centers operated by the company in New York and other places around the world.
Menipaz returned to Israel for the company's annual Structured Data conference, which is held in Israel this time, and will host company representatives from around the world.
Looking for companies with passion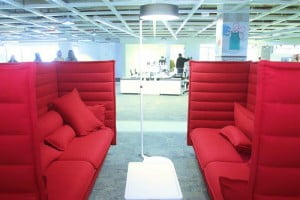 eBay's office in Netanya, Israel
The Israeli incubator will be set up by the end of the year, and the company is now looking for the first wave of startups to join. However, Menipaz admits that he is still unsure what type of companies he is looking for. "In general terms, I can say that we want startups that deal with machine-learning and data-sorting algorithms – from text to video. Those involved in big data analytics, data visualization, social models for retail and others. Each eBay center has its own focus, and we're still figuring out what Israel's will be. We will invite people to work with us, to leverage the technology they're developing.
"Other than that, we're still thinking what exactly we can and want to supply, in the form of software solutions, tools and financial assistance. We would love to help the companies run pilots here, test their technology or conduct market research.
"We will supply selected companies with access to our vast databases and step-by-step consulting. We will assist the startups in commercializing their product and realize not only which problem they want to solve, but the value of their technology."
…
To continue reading this article, click here.
Via NoCamels.com
Photo by eBay Israel's Facebook page